WOW, WOW and WOW I can't believe it's been one year since Goddess Armor Protection went live and began to introduce the public to my brand of one stop shop for self defense training, self defense products, scheduling concealed hand gun class, teaching sexual assault awareness, domestic violence intervention, & anti bullying awareness. Soon I'll be adding state process server to the business. My goal is to become a one stop shop for protection. Why??? Well it's simple no woman should have to search all over the place for what she needs to feel safe. If I can't assist, I will do my best to try assist within my limits.  Why did I start this business? It's simple NO ONE SHOULD HAVE TO LIVE IN FEAR.
You can often find me at gun shows, or various events in Texas. Who knows you might see me Oklahoma in the near future. What does my anniversary mean to you? It means I'm throwing a SALE. That's right a 15% of sale on all purchases of $10.00 and more. I love being shop but now you can shop for your favorite items. This sale is only available ONLINE, and ends September 10, 2015. Go to the website www.goddessarmorprotection.net and before you checkout, enter sale15 in the promo/discount box. All orders are normally shipped within 24 hours. Adjustments might be if the items are out of stock.
HAPPY 1 YEAR ANNIVERSARY GODDESS ARMOR PROTECTION SALE
Don't forget to request your FREE non commitment safety assessment. Sent directly to you. You can also schedule your friends and family for your very own Women's Reality based SMART SAFE self defense class. If I can't schedule your class because of of your location I can link with another instructor in you area.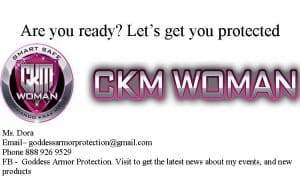 So again HAPPY ANNIVERSARY TO GODDESS ARMOR PROTECTION, let's go shopping everyone PROMO/DISCOUNT CODE – sale15