Hello everyone, I've out the loop for the past week or so. So where have I been you might say? I had the opportunity to attend the Ultimate Boot Camp in Miami, Florida and participate in the Commando Krav Maga SMART SAFE women's instructor program. What an amazing experience to train, learn new techniques and information to pass on to my clients. What is SMART SAFE you ask?
"CKM WOMAN (SMART SAFE program) is designed to introduce you to a feminine method of learning and training that will empower you in times of great need. This female based program works to unleash the cunning tiger inside to give you the power and skills necessary to survive in the face of fear rather than become the prey."
You never have to walk alone, or feel that you can't defend yourself. The power is within you to dig deeper than you thought you could. This program is designed for all shapes, & sizes. I can schedule private secessions or group. Contact Ms Dora for your FREE safety no commitment  assessment and a FREE gift when book and hold your own SMART SAFE session.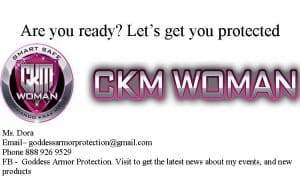 goddessarmorprotection@gmail.com